The city of Las Vegas is in mourning. At 10 p.m. local time, local police said, a "lone gunman" released a rapid-fire barrage of bullets during Jason Aldean's concert, killing 50 people and injuring 400 more; it is the deadliest mass shooting in U.S. history. The gunman was later identified Stephen Paddock from Mesquite, N.V. As police tried to secure the area and locate Paddock, the Las Vegas Strip was temporarily closed, and inbound and outbound flights at McCarran International Airport were briefly halted.From his room on the 32nd floor of the Mandalay Bay Resort and Casino, Paddock fired at the crowd of about 22,000, sending concertgoers running for their lives. Las Vegas Metropolitan Police Sheriff Joseph Lombardo told reporters Monday that authorities believe Paddock killed himself before officers entered his room; initially, officials had said police fatally shot Paddock.

Paddock is believed to have checked into the Mandalay Bay Resort and Casino on Sept. 28, Lombardo revealed during a press conference, and he had an "excess of ten rifles" in his room. The venue, run by MGM Resorts, stretches across 15 acres and has a capacity of 40,000 people.

"Our thoughts and prayers are with the victims of last night's tragic events," MGM Resorts tweeted after the shooting. "We're grateful for the immediate actions of our first responders."

At least one off-duty Las Vegas police officer was among those shot, Lombardo said.

"We heard what sounded like firecrackers going off. Then all of a sudden we heard what sounded like a machine gun. People started screaming that they were hit," Meghan Kearney told MSNBC. "When we started running out, there were probably a couple 100 on the ground."

Kearney, who was one of thousands of concertgoers, added, "People kept dropping and dropping…People were getting shot one foot away from us. People were trying to save their friends. There were gunshots everywhere. Helping them would have meant we got shot, too."

At this point, Paddock's motivations for the massacre are unknown.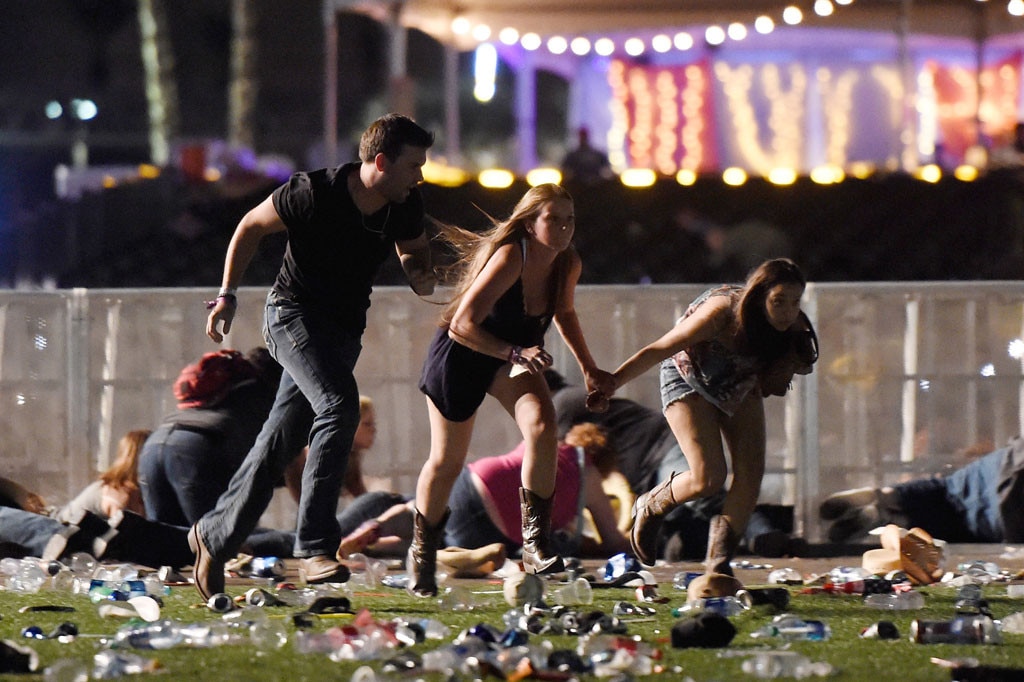 Police do not believe Paddock was connected to any militant groups. "We have no investigative information or background associated with this individual that is derogatory," Lombardo said in a press conference. "The only thing we can tell is he received a citation several years ago," he told reporters. "That citation was handled as a matter of normal practice in the court system."

It didn't take long for police to locate Paddock's 62-year-old roommate, Marilou Danley. Though they don't believe she was involved, Lombardo said the investigation is still ongoing. A search of their home in Mesquite, located 80 miles northeast from Las Vegas, was conducted. At 8:45 a.m. local time, police told reporters they had completed their search warrant in Paddock's home and are looking at additional properties in northern Nevada. The FBI will issue search warrant soon. The Mandalay Bay Resort & Casino is open again—except the 32nd floor.

Fellow performer Jake Owen said he was standing about 50 feet away from Aldean when the shots began. "It got faster and faster, almost like it was an automatic rifle," the country artist recalled to NBC News Monday. "At that point, everyone on stage started running everywhere."
That the singer and his crew are safe. Aldean was the final musician to take the stage as part of the outdoor Route 91 Harvest Festival at Las Vegas Village.Another act on the lineup, the Josh Abbot Band, is also counting its blessings.

"Everyone in our band and crew are safe. I (Josh) had just left and was in the Mandalay Bay on the 20th floor with my fiancée during the shooting just a few floors away. The band and crew were on the concert grounds and saw people get shot. Some of my crew members were hit with shrapnel, but not injured," he told E! News in a statement. "We are deeply disturbed by this horrific act of violence and send our thoughts and prayers to the victims and their families. It was a long awful night but we are blessed to be alive and healthy. Hug your loved ones tight."

President Donald Trump is monitoring the developments, the White House said. During a press briefing around 10:30 a.m. ET, he called the attack an "act of pure evil," saying, "The FBI and the Department of Homeland Security are working closely with local authorities to assist with the investigation, and they will provide updates as to the investigation and how it develops. I want to thank the Las Vegas Metropolitan Police Department and all of the first responders for their courageous efforts and for helping to save the lives of so many." Vice President Mike Pence tweeted about the "senseless violence," writing, "You have our condolences and sympathies."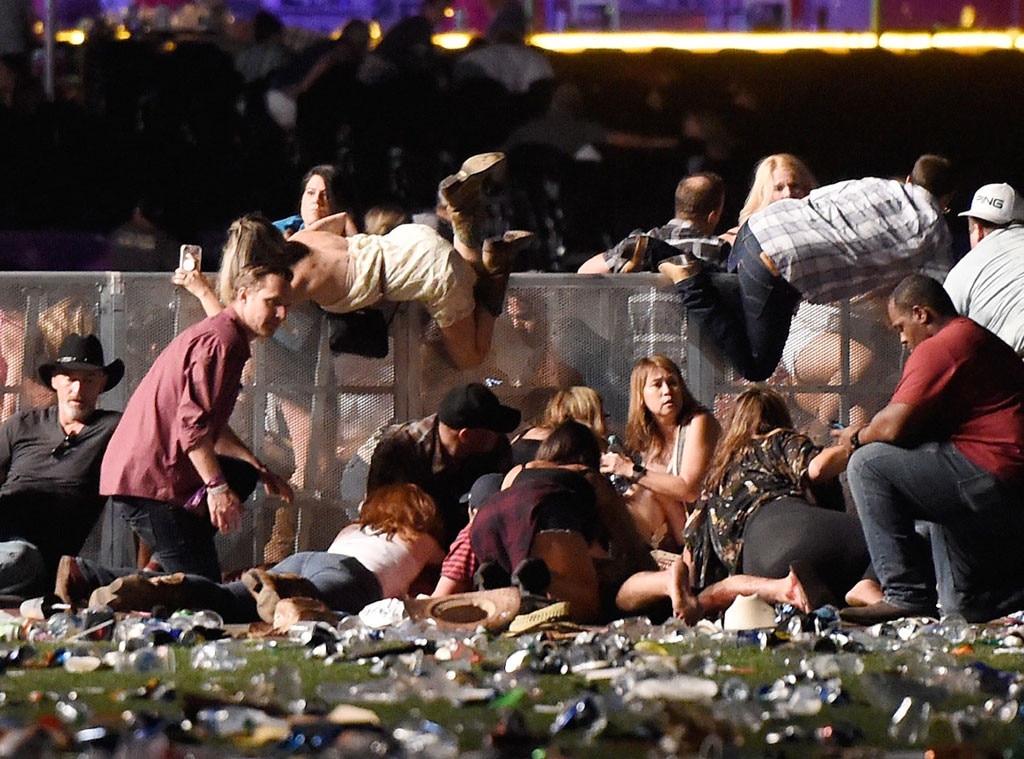 Trump tried to inspire the nation, saying, "In times such as these, I know we are searching for some kind of meaning in the chaos, some kind of light in the darkness. The answers do not come easy. We can take solace knowing that even in the darkest space can be brightened by a single light, and even the most terrible despair can be illuminated by a single ray of hope."
Trump will travel to Las Vegas Wednesday to meet with victims' families and law enforcement officials. In his closing remarks, the commander-in-chief said, "We pray for the entire nation to find unity and peace, and we pray for the day when evil is banished and the innocent are safe from hatred and from fear. May God bless the souls of the lives that are lost, may God give us the grace of healing, and may God provide the grieving families with strength to carry on."Afterward, House Speaker Paul Ryan ordered flags over the Capitol be lowered to half staff in mourning. U.S. Attorney General Jeff Sessions said in a statement that he met with FBI Director Christopher Ray in the wake of Sunday's shooting. "To the many families whose lives have been changed forever by this heinous act," he said, "we offer you our prayers and our promise that we will do everything in our power to get justice for your loved ones." Acting Homeland Security Secretary Elaine Duke said her department is "closely monitoring" the situation and is working with "federal, local and state partners in responding to and investigating this tragedy."

In a statement from the Vatican released Monday morning, Pope Francis said he is "deeply saddened" to learn of the latest shooting and gave his "spiritual closeness to all those affected." (EN)