Are you ready for all the symbolism in Taylor Swift 's newest music video?
As fans take in the Grammy winner's newest visual for her single, "…Ready for It?" it comes as no surprise that there are just as many messages, symbols and touches of shade hidden in the songstress' Blade Runner-esque animatronic creation. Spearheaded by her music video compadre, director Joseph Kahn, the star gets the twin treatment as one version of herself descends on an underground lair where a second version is being kept locked in a glass box.
Soon, the narrative is clear—the true Taylor is fighting to get out while the other Taylor, a false replicant, is fighting to keep her under control. Similarly to her first music video, "Look What You Made Me Do," Swift addresses false depictions of herself and, in this case, how they have stifled her to that point that she feels, well, boxed in.
Time to break out those magnifying glasses—here are all the symbols we spotted: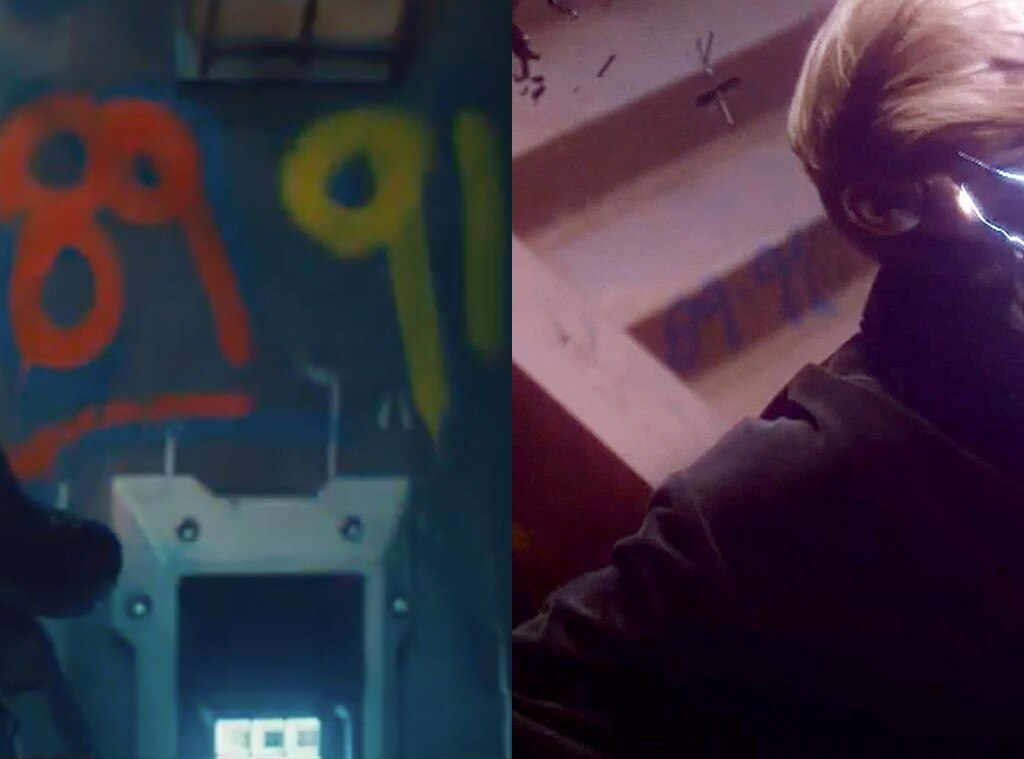 JOE ALWYN ISN'T FAR AWAY
While Taylor's British beau may not physically star in the visual for her hit track, he's still clearly on the songstress' mind because she included subtle references to him throughout the video. The numbers 89 and 91 appear on the wall and staircase, a nod to her birth year, 1989, and his birth year, 1991. In the beginning, she's spotted typing in numbers on a keypad. Those numbers? 21—also Joe's birth day.  Later on, you might also spot a heart with a crown spray painted on a wall, a possible reference to a Irish claddagh ring, which traditionally has been worn by women in a relationship.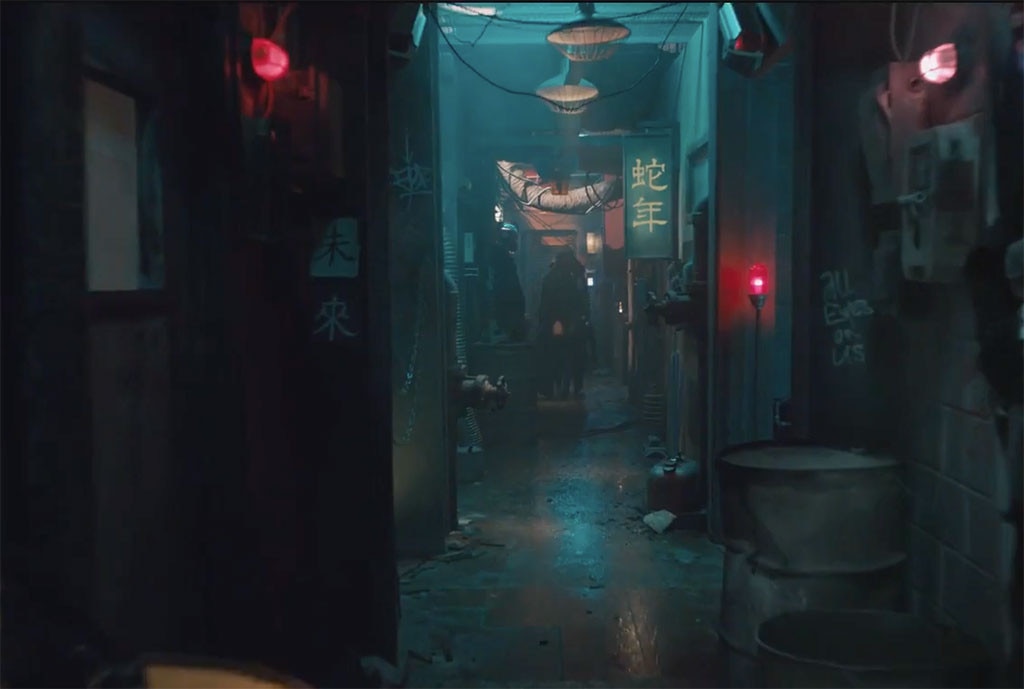 THE SNAKE IS STILL SLITHERING
Swift hasn't forgotten about the foundation she laid in her "Look What You Made Me Do" music video. After addressing her portrayal as a "snake" in the public eye with images of the reptile throughout that visual, she made a nod to the animal yet again this time around. As Taylor is walking down the hallway, the year of the snake is written in Chinese calligraphy on a sign behind her.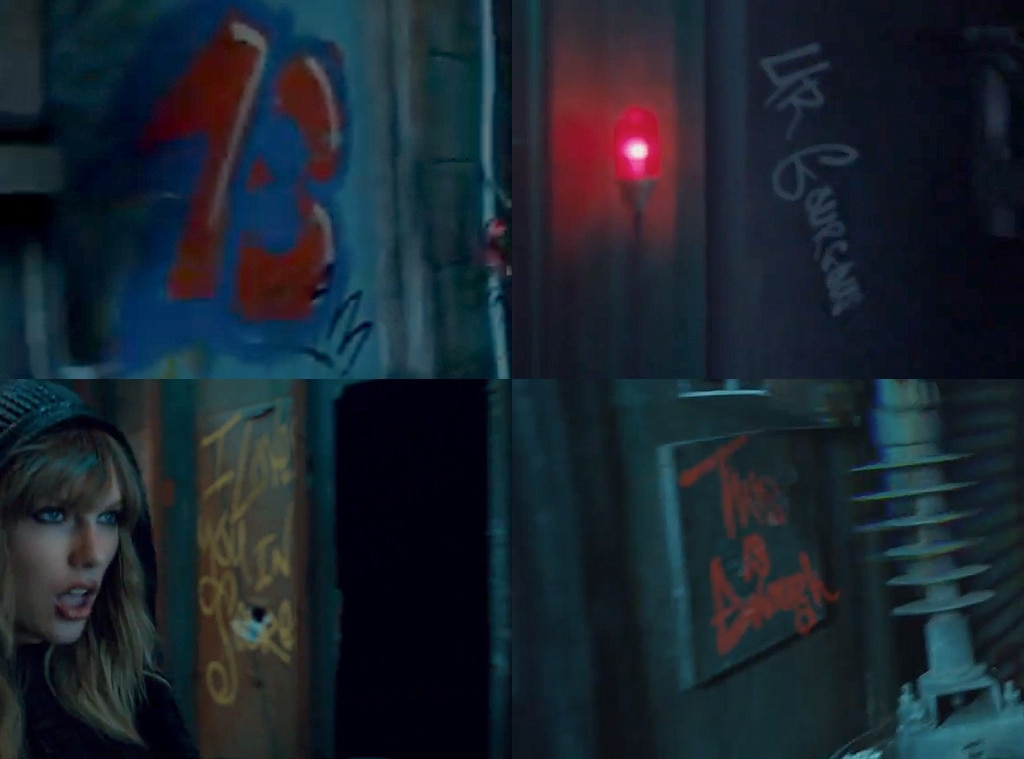 THE WRITINGS ARE ON THE WALL
As Swift struts down the underground hallway, there are a series of writings that pop up subtly. Those include, "UR Gorgeous," "All Eyes on Us," "I Love You in Secret," "This Is Enough" and the number 13. While 13 is Swift's favorite number, the significance of the other writings is unclear. Considering "UR Gorgeous" is most likely a nod to her newest single, some fans have suggested the others may be some of the track titles on her upcoming sixth studio album, Reputation.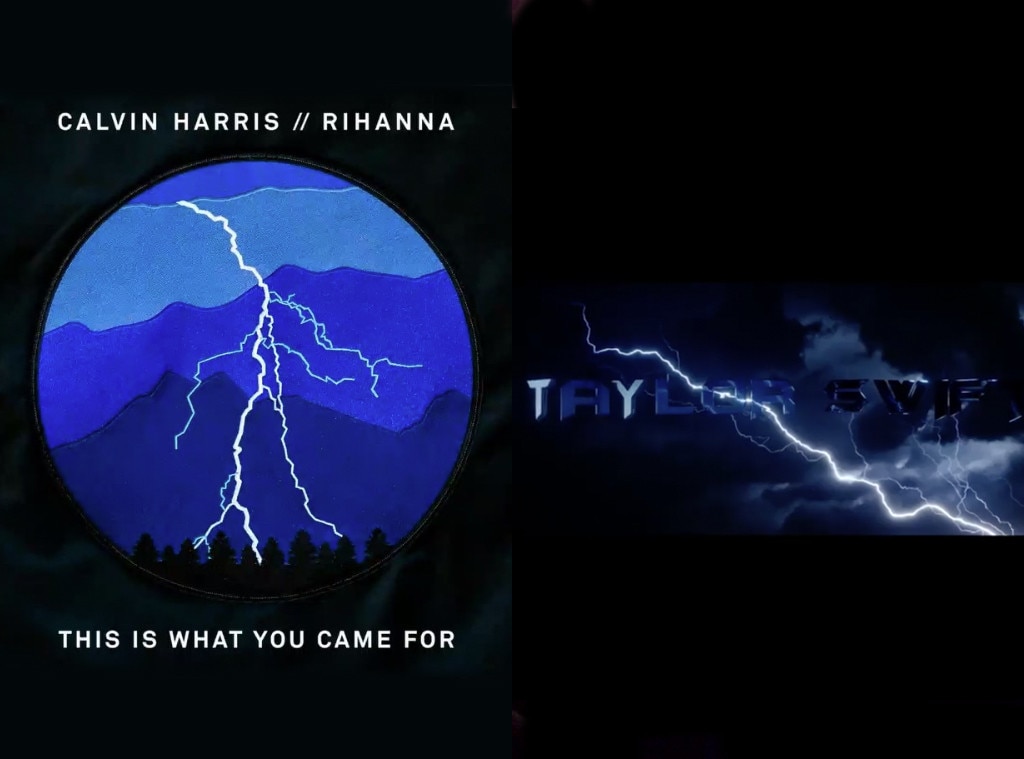 NILS SJÖBOT MAKES HER DEBUT
Thanks to one coy tweet from the video's director, Joseph Kahn, it seems Swift's alter ego may have inspired a cyborg in this visual. Before the video premiered, Kahn tweeted, "Nils Sjöbot," a reference to her songwriting pseudonym, Nils Sjoberg. For those who missed it, she used the pseudonym for her writing credit on "This Is What You Came For," which she co-wrote with ex Calvin Harris. As further potential reference to that track, teaser material for the "…Ready for It" music video featured blue lightening, a nod to the track artwork for "This Is What You Came For."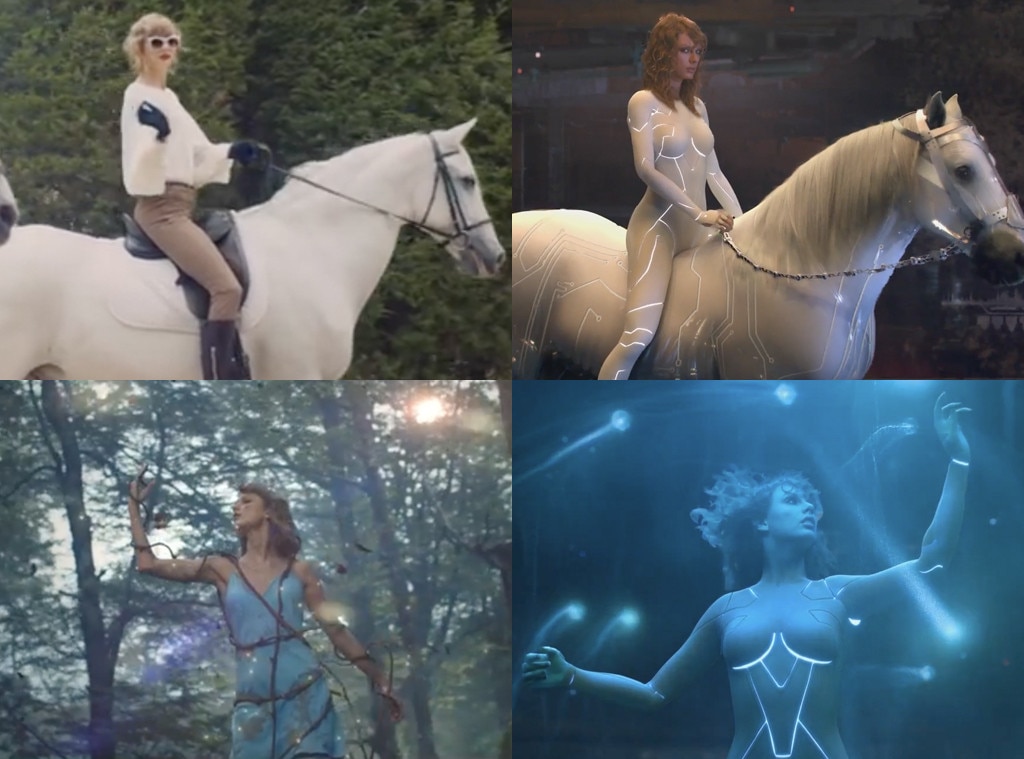 As she did in the video for "Look What You Made Me Do," Swift makes references to her past musical stages while her character is in the glass box. At one point, she's mesmerized by orbs, similarly to a scene from her 1989 "Out of the Woods" music video. At another moment, she appears on a white horse, a nod to her 2008 track, "White Horse," and her 2014 music video for "Blank Space." While white symbolizes purity, the horse this time around is reinforced with bionic armor, perhaps a reference to growing up, strength and the thick skin Swift has had to develop over the course of her career.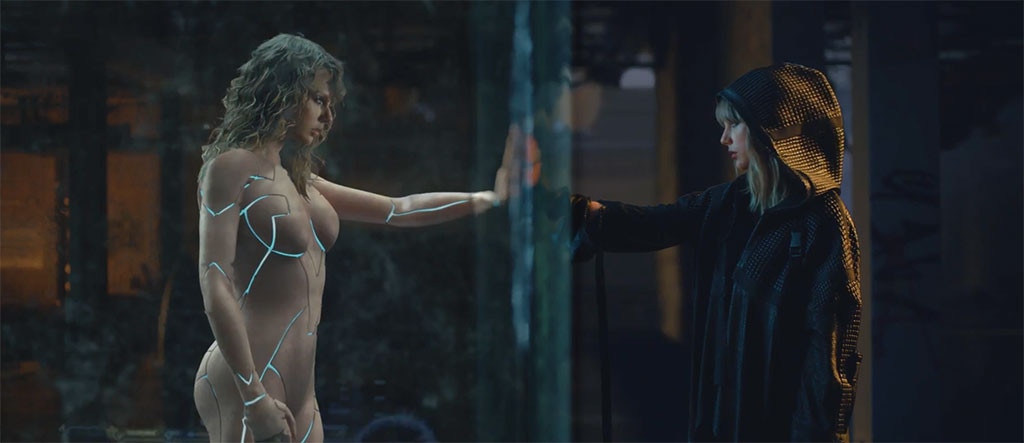 It's clear a fight is going on, but there's much more to unpack when it comes to who the fight is between. While the two Taylors face off, it's a battle of authenticity and identity. The one Taylor, caged in a glass box, seems to represent what she sees as her true self, while the hooded Taylor represents the false one depicted in the public eye. Though the real Taylor has already fought this battle of identity before (alluded to by the symbolism of her past music videos), it's not until she truly comes face to face with her public version—the one that keeps her locked up—and finds her inner strength that she breaks through the glass and sets herself free. Simply, the only one that can destroy Taylor is herself.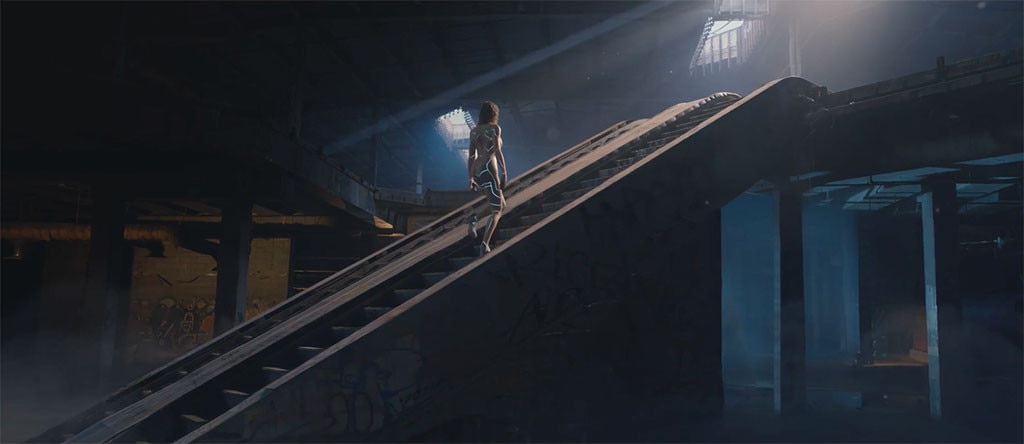 As the finale of the video unfolds, the faux Taylor's artificial insides are exposed as she explodes. Meanwhile, on the stage where she's being destroyed, writing on the platform reads, "They're Burning All the Witches," a potential allusion to a witch hunt. As the imagery suggests. the public is crucifying the fake Taylor while the real one rises above—quite literally as she walks up a staircase to her freedom.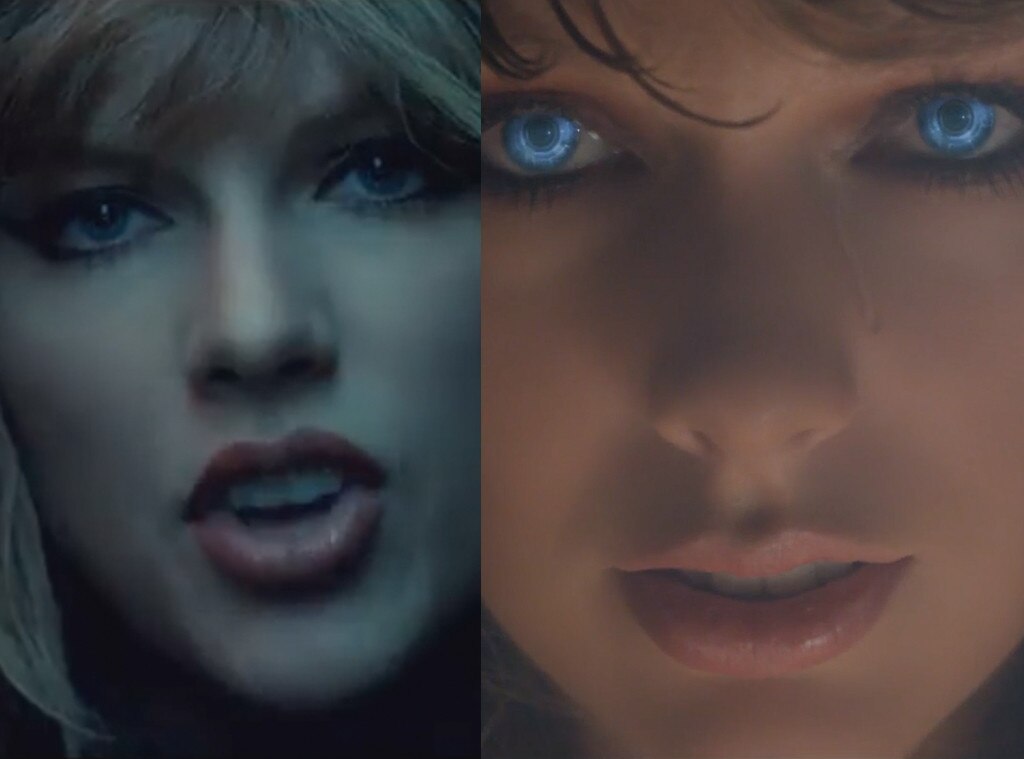 YOU CAN SEE IT IN HER EYES
The final symbol? Taylor's eyes. Throughout the video, the dark robot Taylor's eyes flicker in and out, as if to say her power supply is low or that the she is impersonating Taylor. When the real Taylor makes it to the top of the staircase, her eyes shine bright blue again as her "power" is restored. However, she sheds a tear, further suggesting she is not a robot, but the real human Taylor.
What else did you pick up? Share your thoughts with us in the comments below!